I have for you today, a reveal - mostly. I'm still working on some final details, but if I don't face the kitchen, I can almost pretend I'm done! See the before post
here
if you want to refresh your memory.
Here is the entryway, which is completely, totally 100% done. I love it. It is so calm and organized. SO much better than what it was before. AND, it completely blocks the view into the kitchen from the front door. (and, yeah. I need to take down the fall decor and replace it with a little Christmas.)
Details that I love: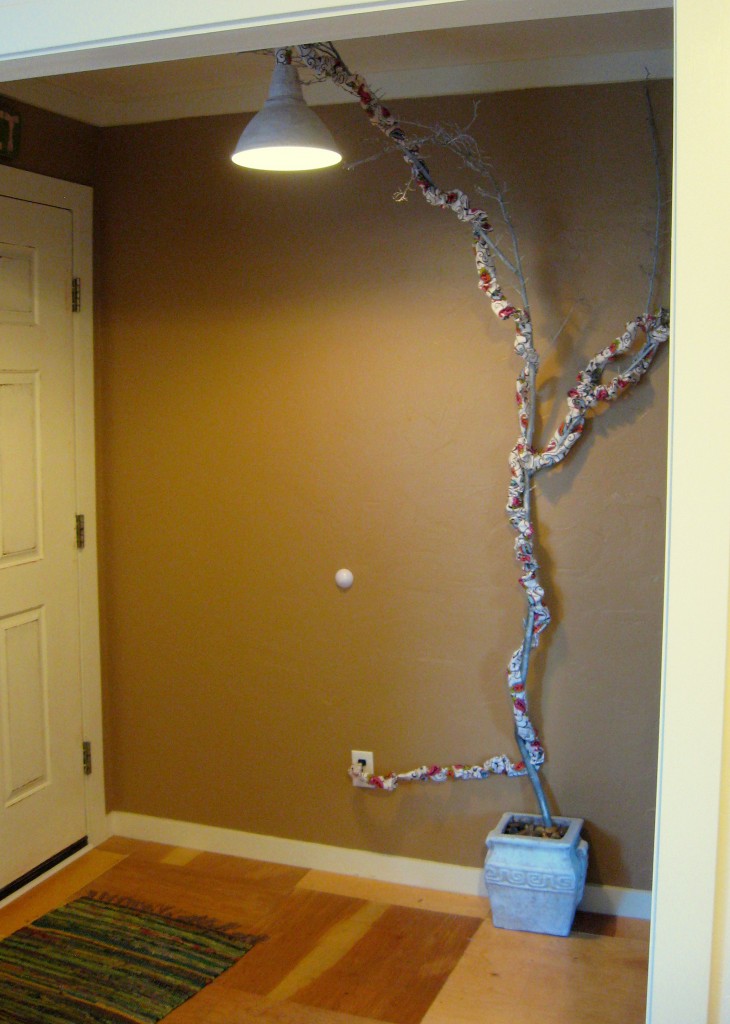 And the living room. I love that I have a more organized place to display my pottery collection now.
And the living room looking the other way. I still need to put up the top moulding and decide what I want to do for curtains. I still want something really simple, but less sheer.
Aaaand here is where we begin to see the horror that is my kitchen...
Divider wall is gone, which I love. It is so light and bright in here now. And the ceiling didn't cave in - YAY! Did you notice all the light switches and electrical outlets dangling from the ceiling? Classy.
The cabinet in the corner is almost done; I still need to reface the doors to match the rest of the unit, but I just love it. The bookshelves holding the dishes are temporary since we have no cabinets. I also need to decide what to do with the table. Since the leaves slide in under the middle, I'm not sure if I should paint it. I've thought maybe I would just paint the legs and then always keep a tablecloth on it, but we are not really tablecloth people. Opinions??
This dresser will eventually form part of our new island. We are still deciding if we want it to be here (but not this far back) or to form an "L" with the counter by the back door.
And the wall of my freak out. Ew. Ew, ew, ew, ew, ew. After Christmas we will get an electrician in to fix all the many problems there. We're thinking we'll extend the wall next to the fridge out about 6 inches. Then we just need to figure out how exactly to configure the cabinets, and get a microwave for over the stove.
Close up of the mold. I just threw up in my mouth a little.
Any suggestions on this stupid corner area? It is another matter of ... marital disagreement.